I did a little makeover to my entryway mirror and table for the Fall season.
Here's how the table was decorated right after I painted it black a few months back.
To see the before and after pictures go
here
.
It was part of the
man cave makeover
.

I added my white embellished pumpkins, a feather boa, and this black orb to one of my urns.
I took off the stem of the pumpkin and changes it out for an embellished Fleur de Lys fence post topper. I attached it by sticking bamboo skewers into the foam pumpkin. They create a base to hold the heavy metal topper in place.
I topped of the mirror with fall greenery.
I already had everything so this change up was free.
Thanks for checking it out.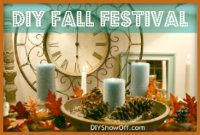 DIY Showoff